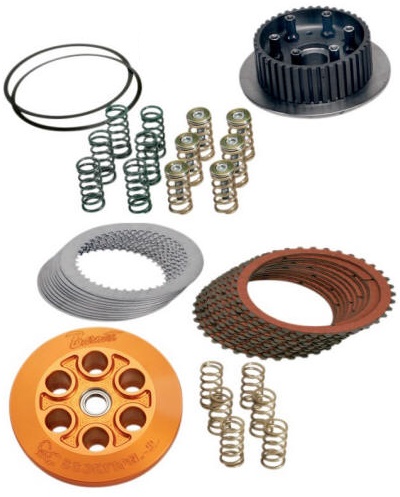 Victory Barnett Scorpion Clutch Kits
Barnett's line of Scorpion billet clutch components offer the quality and high performance that today's big v-twin motorcycles require. Whether your bike is stock or modified- every day rider or full custom.
Scorpion clutches feature greatly increased surface area, smoother engagement and shifting, and reduced lever effort. Ideal for stock to 200+ HP applications and designed to fit into the stock type basket. Scorpion "Low Profile" Lock-up clutches are designed to fit under the stock primary/derby cover for ease of installation and extreme performance.
Scorpion clutch baskets are made from forged aluminum and hard anodized for quality and performance far superior than stock baskets. Top quality ring gear conversion kits, starter shaft assemblies and pinion gears are also available.
Greatly increases clutch capacity
Provides smoother shifting, more progressive engagement
Multiple spring pressure options
Includes steel hub, billet pressure plate, clutch plates, and multiple coil spring sets
Designed to fit the stock type basket
Ideal for stock to high performance applications
Fitment:
Sug. Retail $592.95
PCS Price $564.95
608-85-10001, 608-85-10097, 608-85-10097, 608-85-10008, 608-85-10011